Developing an intuition for the HSL color model
Unlike RGB and HEX, the HSL colour model is relatively easy for humans to wrap their heads around. Let's try to build that intuition!
HSL—Hue, Saturation, Lightness.
Hue is a value from 0 to 360. If that reminds you of circles and degrees, you're right!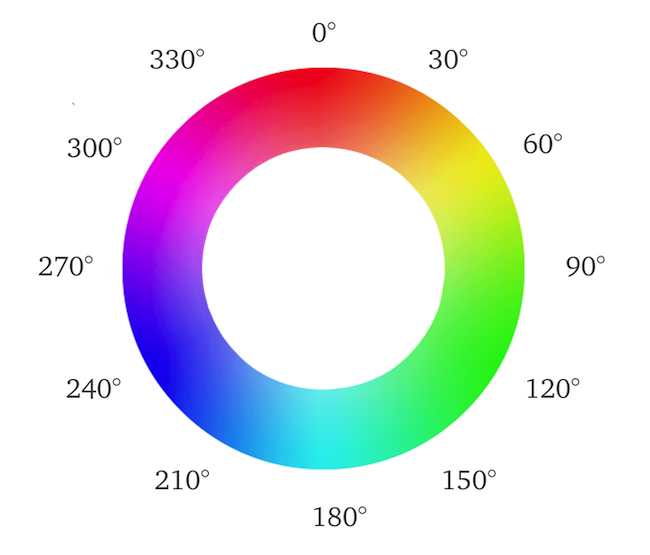 The hues at 60 degree intervals are worth memorizing. Use a mnemonic, perhaps.
Red — Yellow — Green — Cyan — Blue — Magenta
The hues between these are graded gradually, as you'd expect.
##Saturation
Saturation is a percentage. It goes from "gray" (0%) to "dull" to "vivid" (100%).
Vividness
##Lightness
Lightness is also a percentage. It goes from "black" (0%) to "neutral" (50%) to "white" (100%).
Brightness
Keep in mind that the neutral value of lightness is 50%. Moving to the left or right takes you towards black and white respectively.
##Saturation vs Lightness
I sometimes find the distinction between saturation and lightness tricky.
Note how low, medium, and high values of saturation and lightness combine:
Here's an expanded version of this matrix:
##Grayscale
When saturation is at exactly 0, the hue value becomes irrelevant and varying the lightness value gives you grayscale swatches!
When lightness is set to 0%, we get Black (#000000) regardless of hue and saturation. Similarly, when lightness is set to 100%, we get White (#ffffff).
---
Hopefully this has left you with a better intuition of how the HSL parameters affect the color they represent! Consider taking a little quiz I built earlier to test your grasp.
Shreyas Minocha